Three-Year Sponsorship Boosts Motueka High School Sports Access
We are proud to be entering year two of a three-year sponsorship of Motueka High School sports.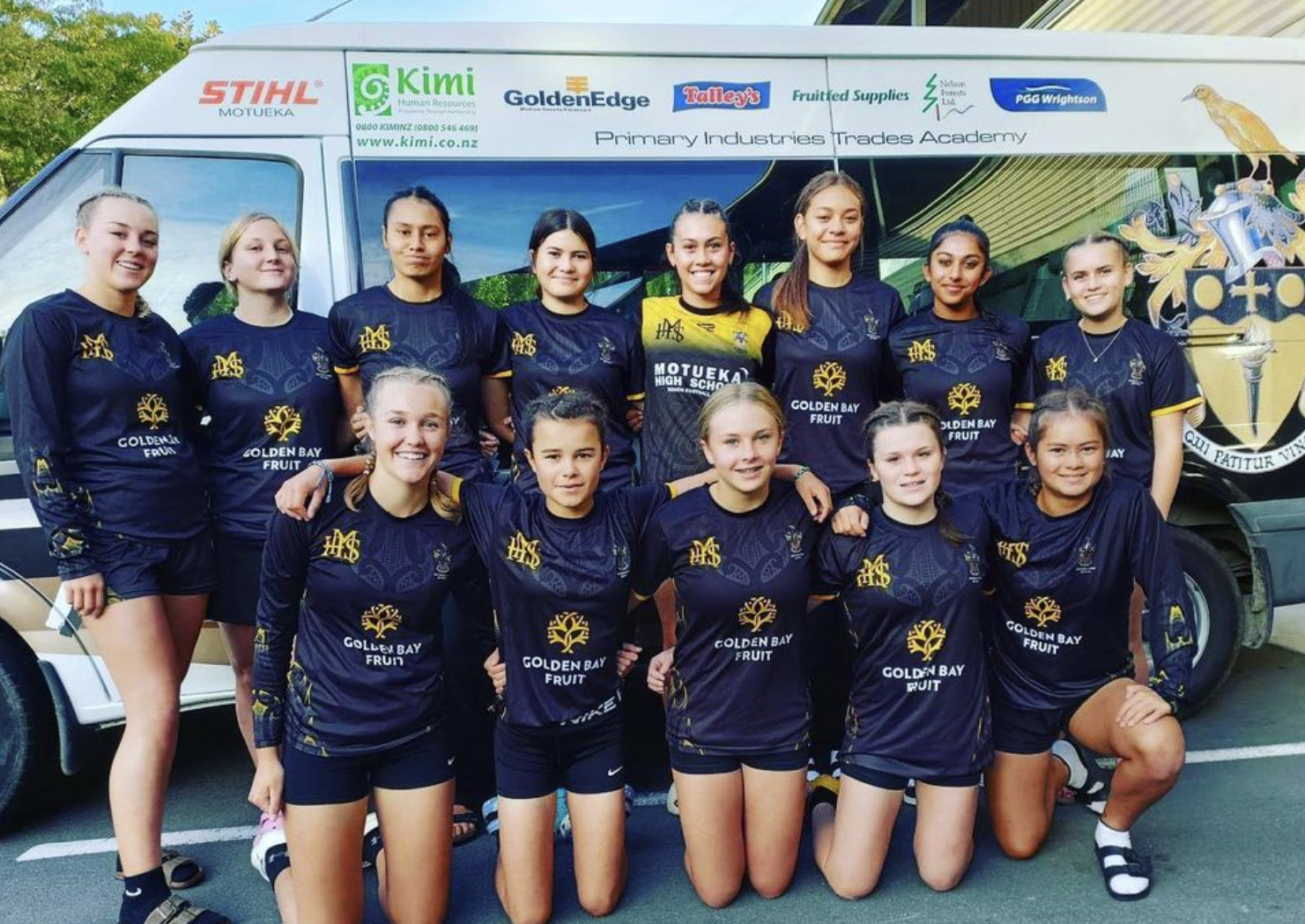 Pictured: The Motueka High School girls touch rugby team attending South Island Secondary Schools tournament in March where they placed 6th.
"We know the value of sport and physical activity is wide-ranging and we're delighted to be able to help more local kids to play sport" says Heath Wilkins, Managing Director at Golden Bay Fruit.
Recent research from Sport NZ revealed 84% believe that sports and physical activity bring people together and create a sense of belonging as well as providing opportunities to achieve and build confidence. This is as crucial as ever given the current environment.
Of a role of 750, well over half of the students are playing sports beyond the compulsory Physical Education classes explains Andrea Tomlinson, Motueka High School Sport Coordinator.
There's a huge range of sporting opportunities at Motueka Highschool with a range of facilities from a dance studio to swimming pools and multi-purpose sports turf as well as school exchanges, and school championships.
Motueka High School also has an impressive record of success across a range of sports, they currently boast the number one adventure racing sports team in the country, winning the coveted (and grueling) Hillary challenge twice in the last three years and two ex-students have gone on to win Olympic medals.
Golden Bay Fruit's sponsorship is supporting a range of sports initiatives. Funds from the first year went towards subsidized training tops for all students, allowing students to access high quality gear to play their favourite sports, and looking sharp while they do so.
The sponsorship also supports a new hardship fund, giving students who may not have previously afforded it, the opportunity to access to gear, sports fees, tournaments or travel.
"For some kids, this support is the difference between playing at an event like secondary school touch tournament or not. We know the benefits of playing sport and we're delighted to make that possible for all of our students with Golden Bay Fruit's support" says Tomlinson.